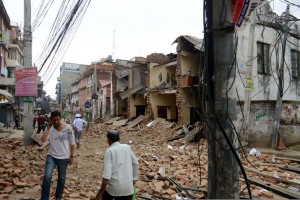 The school of Chyaksa danda, our first project, has not been damaged. On the other hand, the farm of Friends of Nature, the base for our Sponsoring Program has suffered. With a small donation, you can help us to reconstruct this building, necessary for the housing of the children.
Our mission, planned from May 4th, is compromised today.
We had to give a foetal doppler to the health center of Seduwa, to consolidate our Sponsoring program and to begin the Kiwi project which will allow the children to balance their diet.
Everything was fine and we had to go with a joint mission of our friend NGO CODEGAZ to analyze the possibilities of culture of SRI (rice with high yield respecting the environment) and of implenting  biogas for the cookings in the houses of Makalu.
The earthquake of April 25th is maybe going to oblige us to postpone all these works.
We look forward to establish an overview of the situation to help our friends without resource.