Both girls sponsored in our program, Jangmu and Yangjee, are now fully integrated into their new school.
They are even already among the best pupils. We have to precise that they take evening courses with their new professor in the Friends of Nature's farm, Mr Pasang Sherpa
Pasang Sherpa is one of the professors of the Tashigaon's primary school, village situated on the heights, after the village of Robesha where live our two goddaughters and where is the farm of Friends of Nature. He is one of the rare inhabitants, graduate of university.
A first big step has been taken. To be viable, the program has to grow up!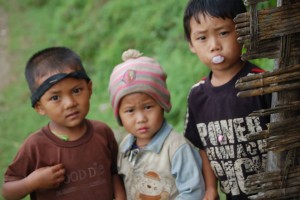 The fixed costs (salary of the professor in particular and management) are important for only 2 sponsored children.
The demand for sponsoring is also important, estimated to more than 30 children in the zone of intervention of Friends of Natural.
8 To 10 children, only in the village of Robesha, wait for your support.
To balance the accounts, 5 sponsored children would be needed,  just three more!
We thus need three sponsors at least to assure the sustainability of the program. Send your candidacy here.
Focus on Sherpa
The population Sherpa is particularly affected, in the region, by the lack of education and of access to healthcare. This phenomenon is the consequence of their isolation in high altitude villages from of the urban areas. Because of their precarious situation, they are exploited as daily workers in fields and carriages.
That is why Friends of Nature prioritizes, without exclusive, its actions for this part of the population of Makalu.